We've made it to April, y'all. Though Prince famously sang that sometimes it snows in April (he did live in Minnesota, after all), this month means that most of us are finally able to put away the shovels and heavy sweaters and know that warmer days are right around the corner.
The arrival of spring also means it's high time to plan that summer vacation you may have put off the past few years, and all signs point to plenty of people doing just that right now. This summer travel season is expected to be one of the busiest ones on record, and prices on everything from flights to rental cars and hotels are expected to surge as a result.
That said, there are still plenty of opportunities to save, especially if you book your trip soon, and there are also plenty of opportunities to sneak in a last-minute spring adventure if you don't want to wait to get away.
To help you out, we've rounded up some of the best travel deals out there right now, all in one place. A mix of affordable and aspirational, these deals have a bit of something for everyone. And even better, we'll continually update this story as we learn of newly announced deals and as others expire. Bookmark this page and we promise you'll always have something good to come back for.
Flight Deals Right Now
Southwest Airlines
The airline is currently running a "May Travel Included" flight sale offering one-way flights starting at $59 to destinations throughout the continental US, Hawaii, and Puerto Rico. The cheapest fares are generally reserved for Tuesday and Wednesday flights. The sale is continuing through 11:59 pm PT on April 20 and is valid for bookings from May 2—May 24, 2023, as well as August 8—November 1, 2023.
JetBlue
The airline's "Spring Into Summer" flight sale is offering low airfare starting at $44 one-way for travel between May 2 and June 21, 2023 when you book by 11:59 pm ET or local time on Thursday, April 20. Lowest airfare is available for Tuesday and Wednesday travel and some blackout dates and additional restrictions may apply.
Air Tahiti Nui
The airline is offering a special "Explore New Zealand" rate for flights from Los Angeles (LAX) to Auckland (AKL) with roundtrip airfare starting at $974 per person for Moana Economy class and $2,394 per person for Moana Premium class. The discounted rate is available for bookings through April 24 for travel by June 30, 2023.
Spirit Airlines
The budget airline is also offering up to 30% off vacation packages, allowing travelers to save significant cash when you book your flight, hotel, and/or rental car all together through the airline. One deal offers 10% off Las Vegas vacations when you book a stay with MGM Resorts before April 30.
Etihad Airways
The airline is offering discounted stopover flight packages right now including 40% off two or four-night hotel stays in Abu Dhabi hotels, one or two-night free stopovers in selected hotels, and free accommodations for travelers with a connecting flight in Abu Dhabi. The airline's stopover program also offers discounts on restaurants and experiences. More details are available here.
Hawaiian Airlines
You can score cheap airfare from the mainland to a number of in-demand Hawaiian destinations from both the West and East Coast right now. Flights from Sacramento to Kona start at $119 one-way for travel between May 8 and May 24, while flights between LA, Long Beach, San Francisco, and San Jose and destinations like Kahului, Kona, and Lihue are also available at discounted rates for travel between mid-April and mid-May. Flights from Boston and New York are also discounted.
Frontier Airlines
Frontier has launched a $699 subscription for unlimited summer travel (a big savings from its usual $999 cost). Its Summer GoWild Pass can be used for both domestic and international travel between May 2 and September 30.
Delta Air Lines
Delta AmEx cardholders can now earn award flights obtained using their SkyMiles at a 15% discount through the airline's new "TakeOff 15" promotion.
Hotel Deals Right Now
Villa del Palmar Loreto and Hotel Santa Fe
The Baja California Sur hotels are both running major deals right now. Villa del Palmar Loreto is running a spring sale offering 30% off bookings and free kayak and paddle board usage. Hotel Santa Fe is offering 35% off rooms and 10% off its Casa Mia restaurant. Both deals are valid through April 30 on stays through June 30, 2023.
Havana Cabana
The Cuban-inspired Key West hotel is celebrating its fifth anniversary in April and is offering a $50 food and beverage credit for any guests who book a stay by April 30.
Miraval Resorts & Spas
The wellness-oriented resort brand is running a Wellness Days sale where guests can enjoy a $225 nightly resort credit (per person) instead of its usual $175 nightly resort credit when guests book and stay at a Miraval property through April 30, 2023. The credit can go toward a guest's choice of spa services and activities.
The Restoration Hotel Charleston
The boutique Charleston hotel is offering 15% off Monday through Friday bookings there through May 31, 2023. The hotel is also offering a $25 dining credit at its The Watch Rooftop Kitchen & Spirits.
Omni Hotels & Resorts
The company is offering two promotions this summer, including up to 20% off stays through its "Longer Days, Longer Stays" offer through September 28 (10% off one night, 15% off two nights, or 20% off three nights). Its "Carried Away" promotion is also offering savings on stays of at least two nights at Omni's resorts. When you book through September 7 for stays through September 8, you'll get a $200 resort credit or $50 hotel credit and a custom-designed SCOUT Bags summer tote.
Motel 6
Right now, travelers joining Motel 6's rewards program, My6, will receive 6% off their stay at all Motel 6 and Studio 6 properties. My6 members also get up to 30% off Avis car rentals, free delivery from DoorDash and Grubhub, and $30 off airfare purchased through the Cheap O Air platform.
Capital One Travel
VentureX cardholders can earn a $100 "experience credit" if they stay at any of the card company's new Premier Collection of hotels and resorts. The credits can be applied to dining, spa services, and more. Room upgrades, when available, are also offered to cardholders.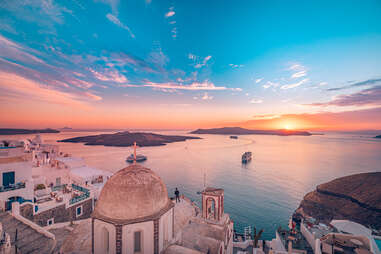 Cruise Deals Right Now
Oceania Cruises
The cruise line is offering significant savings for travelers who book a 2023 or 2024 sailing with them by April 30. As part of its "OLife Ultimate All Three for Free Sale," travelers can enjoy free shore excursions, a free beverage package, and shipboard credit up to an $800 value. Details can be found here.
Lindblad Expeditions
The cruise line is allowing any passengers to cruise under the age of 22 to cruise for free on select Lindblad Expeditions-National Geographic sailings this summer. To get the deal, travelers under 22 need to travel with an adult paying full price in a double occupancy cabin. The offer is available on bookings completed by June 30, 2023, using the promo code CHLD FR.
Disney Cruise Line
The popular cruise line is currently offering up to 35% off select sailings from a number of destinations including Rome, Barcelona, Copenhagen, Southampton, Miami, Vancouver, and Port Canaveral.
Royal Caribbean
The cruise line is now offering 30% off all its cruises alongside its "Kids Sail Free" promotion. More details on available sailing dates are available here.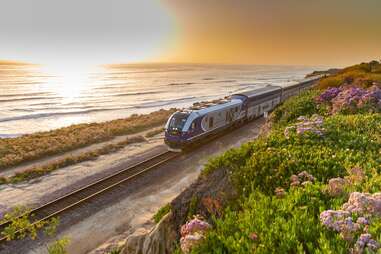 More Travel Deals Right Now
For the Love of Travel
The group travel company is offering 10% off all trips booked on the platform in celebration of the launch of its 2024 trip itineraries on April 19. The deal is available on April 19 only using the code OPENINGDAY2024.
Explore Worldwide
The adventure tour operator is offering 20% off all its European tours through its Big European Sale. The deal is available for bookings through April 28, 2023 using the promo code EUROPE.
RVshare
The RV rental company is giving away $500,000 in national and state park passes with rentals booked by May 31, 2023 for travel by September 5, 2023. Travelers eligible for the free passes must book a rental of at least three days.
Amtrak
The rail service is offering 25% off weekend trips on the Pacific Surfliner through April 28, 2023, as well as new discounted "Night Owl" tickets on the Northeast Corridor. Additional current Amtrak deals can be viewed here.
Missing Anything?
If you know of other travel deals that we missed, help us spread and word by emailing us at [email protected].